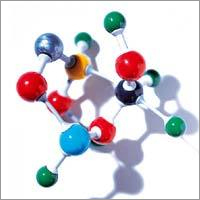 Dow Corning Fluid
Product Code : 02
Product Description
Our company has made a distinguished position for itself over the past 25 years, by manufacturing and supplying Dow Corning Fluid. These fluids are used as mould release agents for rubber, plastics and metal die castings. We formulate these fluids using the premium grade compounds sourced from the authentic vendors of the market. We can provide our Dow Corning Fluid to the clients in various packaging options and at the market leading price.
Features:
Soluble in water

Good dilution stability

Effective
Further Details:

Item Code: Poly-Dimethyl-Siloxane
Features

Water-clear silicone fluid available in viscosity ranging from 0.65 to 60,000 cst (mm/s)

Little change in physical properties over a wide temperature span - a relatively flat viscosity-temperature slope, and serviceability from -40oC up to 200oC

Excellent water repellent

Good dielectric properties over a wide range of temperatures and frequencies Low surface tension - readily wets clean surfaces to impart water repellent and release characteristics

Viscosity above 10 mm/s also exhibit heat stability, oxidation resistance, very low vapor pressures, and high flash point

Low order of toxicity

Essentially odorless

Soluble in a wide range of solvents

Non-greasy and non-rancidifying
Potydimethylsiloxane

Applications
Release Material: Used alone or as part of a compounded formula, DOW Corning 200 Fluid provides a non-carbonizing mould release for rubber, plastics, and metal die castings. Foam Preventative: Extremely small amounts of the fluid effectively control foam in many processing operations, especially in non-aqueous systems.

Mechanical Fluid: Excellent viscosity-temperature characteristics, thermal and chemical stability, shear-breakdown resistance, compressibility, and rubber compatibility make DOW Corning 200 Fluid outstanding for mechanical/ hydraulic uses. Typical uses include hydrolic stabilisers, damping media.

Surface-Active Material: Added to vinyl plastisols, DOW Corning 200 Fluid improves the flow characteristics, de-aerates and lubricates me surface of the completed part.
Lubricant: The fluid provides excellent lubrication for most plastic and elastomeric surfaces. Lubricity with metals depends upon the combination involved. Care should be taken to select suitable metals for pumps and other items with moving parts.
Contact Us
442, Neo Corporate Plaza, A-Wing, Ramachandra Lane Extn, Kapol Wadi, Malad (W), Mumbai, Maharashtra, 400064, India
Phone :07259443802